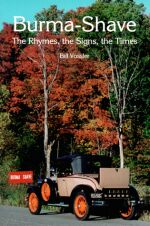 Burma-Shave : The Rhymes, the Signs, the Times
For thirty years, the series of six signs posted along roadways were an icon of American life. The little jingles that touted a brushless shaving cream entertained travelers across the country. Take a trip down memory lane with this book and discover not only all the Burma- Shave rhymes ever erected on signs, but a bunch that weren't, as well as those the Odell family thought unseemly. This book also tells reader stories and experiences with the Burma-Shave signs. Click here to order for $14.95.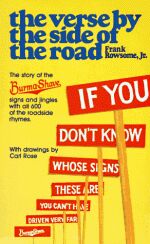 The Verse by the Side of the Road : The Story of the Burma-Shave Signs and Jingles
The combination of clever verse and brilliant exposition -- stretching along the wide-open road until the punch line could be delivered -- is unlike any other ad delivery in history.
Author Frank Rowsome, Jr. tells the story of the campaign's creation and life, and provides a listing of all signs from 1927 through 1963. In between is an amazingly clever collection of poems, including contest winners, shorter signs for smaller displays, spin-off tooth powder and lotion jingles, and regional ads. Click here to order for $8.26.